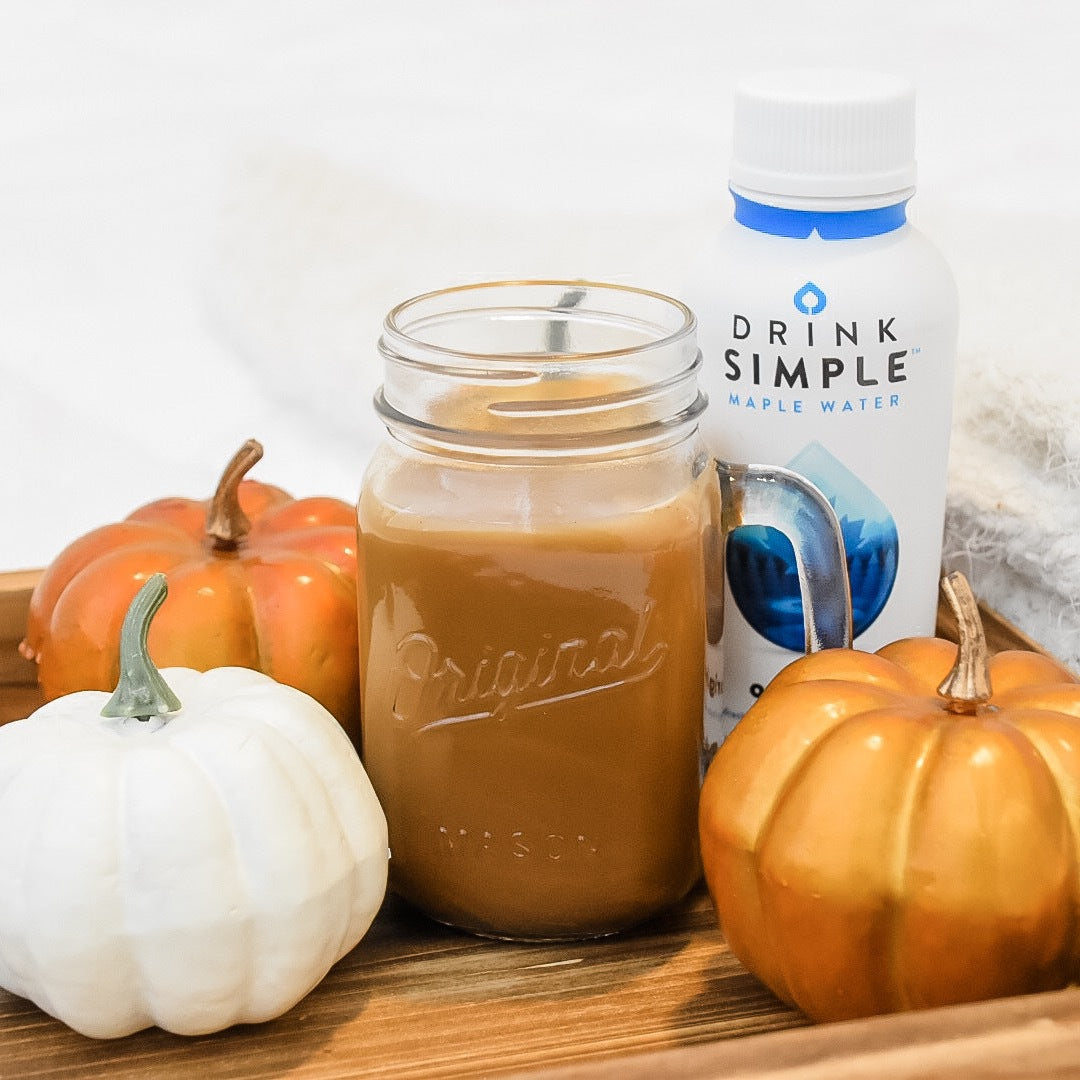 Healthy & Hydrating Pumpkin Spice Latte
The leaves are starting to change and a crisp harvest chill now fills the air. The time is ripe for hayrides, apple and pumpkin picking, mulled apple cider, hiking to capture a golden view of peak foliage, baking up fall treats and cozying up with a hot pumpkin spice latte.
We're all about embracing fun seasonal flavors when it comes to beverages, but the problem we have found is that most "Pumpkin Spice Lattes" actually contain minimal REAL pumpkin at all -- if any, and they're typically loaded with artificial colors, flavors, sugars and fats. This fall, we decided to whip up a Healthy AND Hydrating Pumpkin Spice Latte made with real pumpkin puree and infused with maple water for superfood electrolyte benefits… So that you can celebrate the season while fueling your body with essential vitamins and minerals.
Healthy & Hydrating Pumpkin Spice Latte
Makes 1 serving
Ingredients
2 Tbsp. pumpkin puree

1 cup coffee (brewed with

Drink Simple Original Maple Water

)

½ cup cashew milk (or nut milk of choice)

1 Tbsp. coconut oil

½ tsp. cinnamon

½ tsp. pumpkin pie spice (or a dash each of nutmeg, allspice, ginger and cardamom)

Dash of salt

1 Tbsp. maple syrup (or liquid sweetener of choice)
Directions
Brew 1 cup of coffee with

Drink Simple Original Maple Water

.

While the coffee is brewing, heat cashew milk over stovetop or in microwave for 15-second intervals until warm.

Add all ingredients to a blender, and blend until fully combined and smooth.

Pour into a mug, and serve immediately. Sprinkle with extra cinnamon if desired!
By Lauren Kelly Bienko