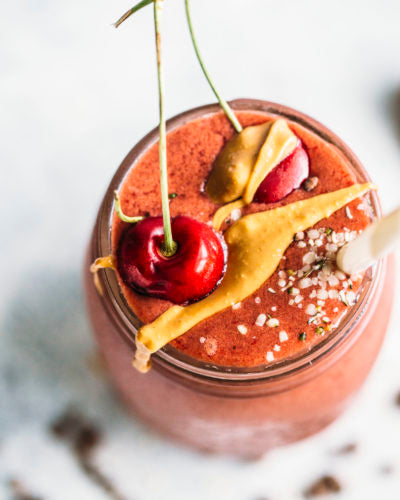 Cherry Chocolate Bliss Smoothie
This is not only delicious, but with it's anti-inflammatory ingredients, it makes for  a great post-workout smoothie. 
Ingredients:
12 oz Drink Simple Maple Water
1 tbsp cacao powder
1/2 cup frozen cherries
2 tbsp peanut or almond butter
1 tbsp hemp seeds
1/4 cup maple water ice cubes
1 scoop protein powder (optional)
Toppings:
1 tsp cacao nibs (to taste)
drizzle of nut butter
1 tbsp hemp seeds
Directions:
Blend together maple water and frozen fruit in high powered blender. Add ice cubes, nut butter of choice, hemp seeds and cacao and blend until smooth and creamy.  Garnish with cacao nubs, drizzle of nut butter, and hemp seeds. Enjoy!