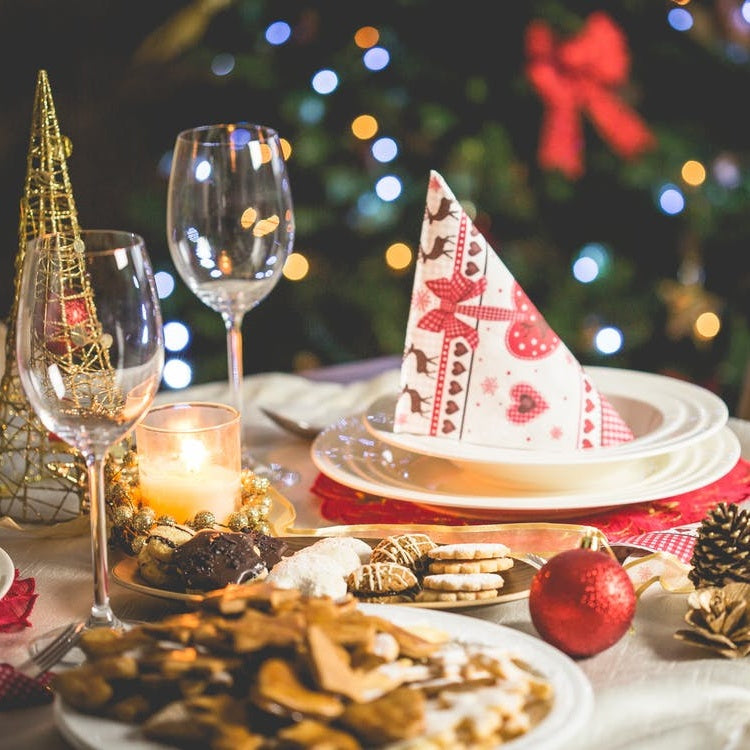 7 Tips to Eat Mindfully Over the Holidays
Eating healthy during the holidays can be a struggle. As November hits its stride, it feels like a steamroll of holiday feasts begin — Your home is filled with leftover Halloween candy, and every weekend is suddenly booked with holiday parties. Your neighbors are bringing over fresh baked pies, and your usually stark office space is festively filled with chocolates and candy galore. Thanksgiving is right around the corner, and you can't wait to start Rockin' Around the Christmas Tree -- but if you feast on holiday foods like you did last year, you're worried that you'll be rolling around it instead (remember that year you ate so much of grandma's pecan pie that you could barely get out of your seat?).
To help you navigate through the sensory overload that is the holiday season, we've put together some healthy tips to help you eat mindfully and stick to your healthy lifestyle habits while still enjoying the delicious festivities that the holidays bring.
Mindfulness is the act of releasing your mind into the present moment and allowing yourself to experience your presence. The practice of mindfulness has become a popular therapeutic wellness technique (for good reason!) and when practiced correctly, it can help you unlock a better sense of self. 
Mindful eating is the practice of applying the principles of mindfulness to your every day eating. In other words, it helps you gain control over your what you eat, and enhances your food experience by helping you to be present with every bite and to savor not only the taste but also the positive effects that the food has on your body.
7 Tips to Eat Mindfully Over the Holidays
1. Be selective: Eat what you love.
Pecan pie, apple pie, pumpkin pie, snickerdoodles, gingerbread, sugar cookies, shortbread cookies, turkey, stuffing, cranberries, gravy, fruit cake… The list goes on (and on, and on). We get it: all of the tempting sweet treats and baked goodies you could ever imagine are suddenly all over the place, and your eyes (and taste buds) are wandering all over the map. Reel in your wandering mind, and remind yourself which goodies are actually your favorites, and which ones you simply eat because, well, "'tis the season." We're all about indulging ourselves a little over the holidays, but we believe in doing so in a mindful manner that allows us to enjoy and savor our absolute favorite treats. Your favorites will taste twice as nice!
2. Check out the whole buffet before you make your plate.
A Cornell University study has shown that the typical buffet-filled plate contains a disproportionate amount of the first three items in the buffet line. If your favorite items happen to fall later in the line, you'll be more likely to end up overloading your plate beyond what you should be eating (and you will probably end up eating it all!). Make your rounds and scope out the entire food selection before you help yourself to the buffet. If possible, begin by filling your plate with your favorite (and healthier) foods, before you tackle the rest of the buffet. 
3. Stop and reflect.
Before you take your first bite, pause and think about how you feel in the moment. Are you preoccupied? Are you rushing yourself? Check in with your emotions — are you sad, bored, happy, upset? What are you hoping to get out of this snack or meal? What does your body want (in the moment), and what does your body truly need? Once you have reflected on your present moment, you will have a clearer idea as to what you should be eating, whether you are eating it, how much you are eating, and how you want to eat. 
4. Dump the distractions.
When you eat while preoccupied, your mind is less likely to register the quantity that you have eaten — this can lead to overconsumption, which can be especially harmful to your health if you are not eating healthy foods to begin with. Turn off the TV, put down your phone, and step away from your computer while you eat. By eating while distracted, you are not able to truly savor your food, nor are you able to be in touch with your mind and body. Since your awareness is focused elsewhere, you will most likely end up feeling much less satiated than you would otherwise. It's the holidays — don't just EAT your favorite foods — enjoy them.
5. Eat a delicious and wholesome breakfast.
Whether you are a breakfast-eater or not, there's one thing for sure: eating a well-balanced, nutritional breakfast should leave you satisfied so that you are not famished later in the day, when you are presented with holiday festivities. If you head into a holiday meal or party feeling hungry and ravenous, then you will be more likely to devour (and over-consume) everything you lay your hungry eyes on. By fueling your body prior to attending holiday festivities, you will be less inclined to over-eat, and your satisfied mind will be empowered to make mindful food choices. 
6. Be conscious of snacks and appetizers.
The effort you put into crafting a healthy, well-balanced plate of turkey dinner goes out the window if you are not mindful of the snacks and appetizers you munched on all day. We're all about snacking, but a big part of mindful eating during the holiday season is being conscious of the snacks you may be devouring throughout the day.
7. Drink up, celebrate, and re-hydrate!
The time is NOW to celebrate and enjoy time with family and friends, and this often involves pouring up a glass of your favorite holiday drink. Festive cocktails, delicious wines, holiday craft beers — enjoy yourself! However, drink mindfully and make smart decisions as to what drinks you may enjoy, and how much you can and should consume. Our holiday secret? Infuse your cocktails with some Drink Simple maple water (it's packed with electrolytes to battle nasty hangovers, and loaded with vitamins!) so that you can thrive throughout your holiday festivities. Not mixing up cocktails? Start your day off with a bottle of flavored Drink Simple maple water so that your body is ready to battle dehydration — before it even hits. 
How do you like to eat mindfully over the holidays? We'd love to hear your thoughts! Tag us on Instagram for a chance to be featured on our page.
By Lauren Kelly Bienko