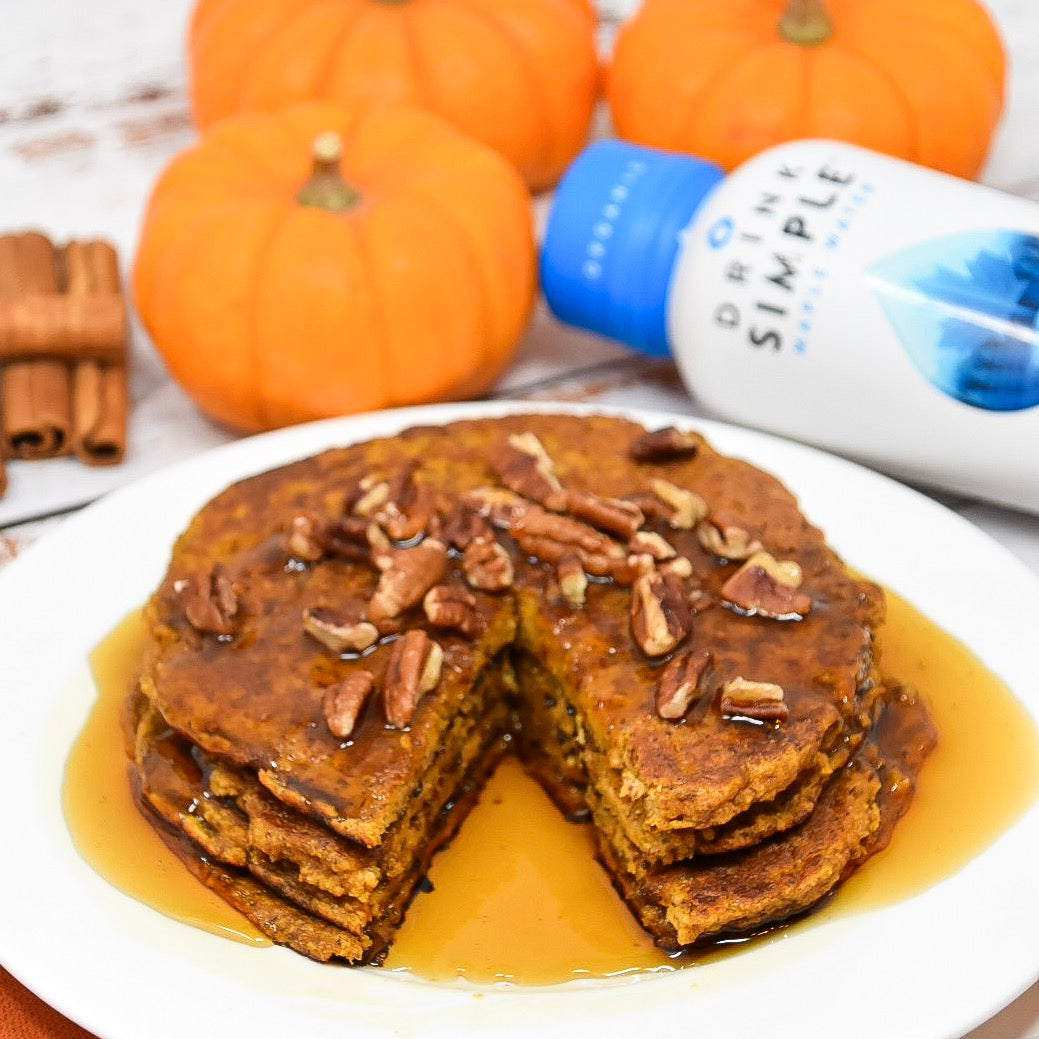 Plant-Based Pumpkin Pancakes
There's nothing quite like a fluffy stack of homemade pancakes on a cozy fall morning, and that's why we put together this perfectly pumpkin spiced pancake recipe made with only all-natural, plant-based ingredients!
This delicious stack is made with all your favorite autumn spices: cinnamon, nutmeg, ginger and allspice — a combo that not only puts you in the festive fall mood, but also provides you with anti-inflammatory and antioxidant health benefits.
This wholesome breakfast recipe is free of gluten, dairy, egg, soy and refined sugar… and is also vegan-friendly and infused with our favorite secret superfood ingredient: pure organic maple water.
Keep reading to get the recipe:

Plant-Based Pumpkin Pancakes
Ingredients
4 flax eggs (or ⅔ cup

Drink Simple Original Maple Water

+ 4 tbsp. flax meal)

1/2 cup pumpkin puree

1tbsp. cashew butter, or nut butter of choice

1¼ cup almond flour

2 tsp. baking powder

1 tsp vanilla extract

1/4 cup pure maple syrup

1 tsp. cinnamon

¼ tsp. nutmeg

¼ tsp. ginger

½ tsp. allspice

¼ tsp. salt
Directions
In a small bowl, stir the flax eggs together. If you're creating your own, mix ⅔ cup of maple water with 4 Tbsp. flax meal and allow it to sit for five minutes, or until thickened.

In a large bowl, combine all other ingredients and whisk until fully combined.

Add the flax eggs and mix until combined.

Pour batter onto prepared griddle and spread into a 3-4" circle. When pancakes begin to bubble, carefully flip over and cook until pancake is ready! The larger the pancake, the longer it will need to cook.

Remove and top with your favorite ingredients (we suggest pecans and a healthy dosage of pure maple syrup!). Stack, slice, and enjoy!
Looking for more delicious fall recipes infused with maple water? We suggest you try our Pumpkin Pie Smoothie or our Healthy & Hydrating Pumpkin Spice Latte. Share your #TreeChugger recipes and tag us on Instagram for a chance to be featured!
By: Lauren Kelly Bienko