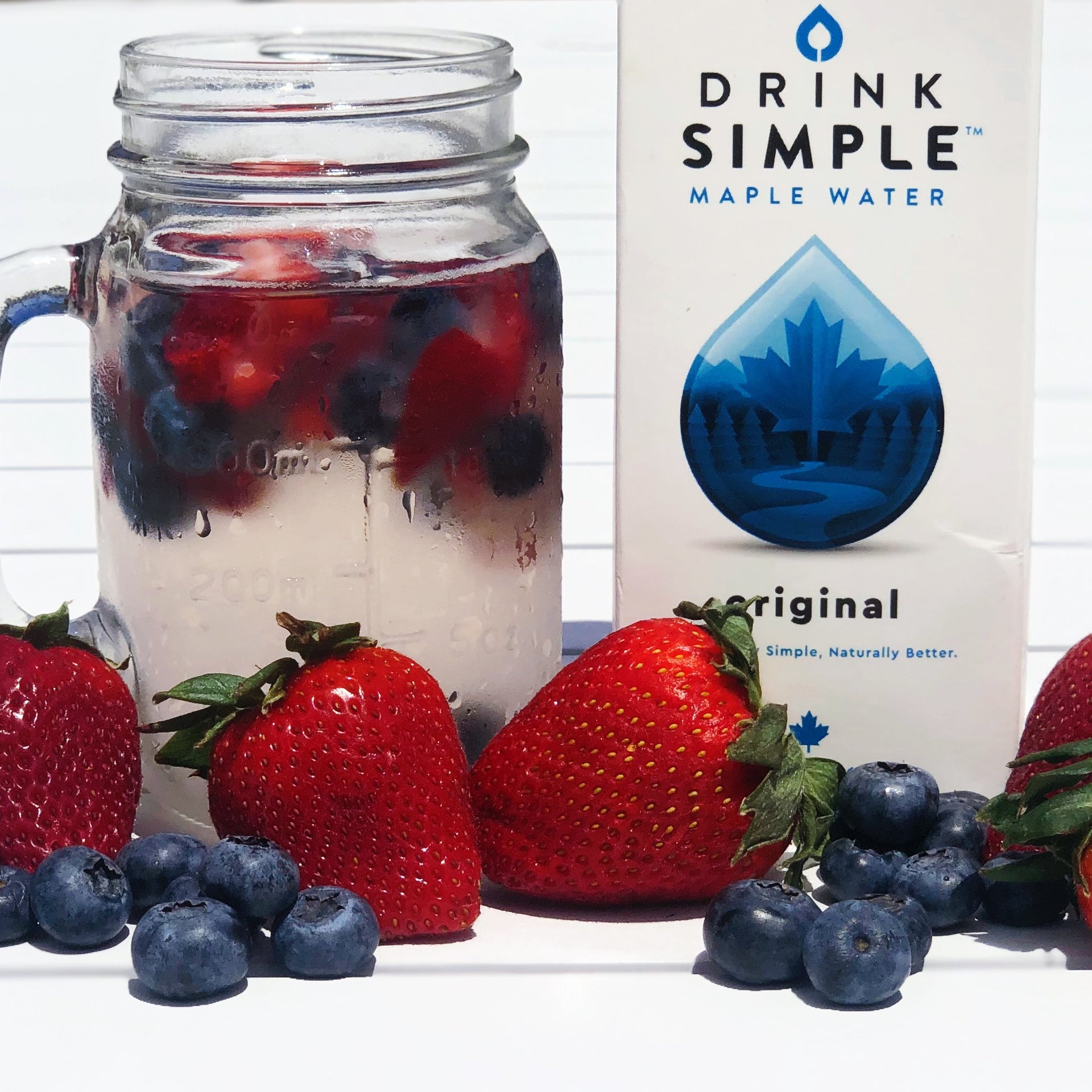 Red, White & Blue Infused Ice Cubes
The 4th of July is almost here, and we have an easy festive recipe to add to your celebration this year!
Cool down your drinks with these red, white and blue infused ice cubes. They make for great patriotic presentation, but most importantly, are made with healthy electrolyte-packed Drink Simple maple water to quench your thirst as the day heats up!
Subtly infuse anything -- from plain water to delicious cocktails with these sweet and extra-hydrating ice cubes. Double up on hydration by filling up a large glass pitcher with 24 ice cubes and fill 'er up with maple water!
Red, White & Blue Infused Ice Cubes
Ingredients
Directions
Wash your blueberries and strawberries.

Slice the strawberries as necessary to fit into your ice cube tray.

Place as many blueberries and strawberries as will comfortably fit into each ice cube section. It's ok if they overflow a little, as the water will cling them together once frozen!

Pour

maple water

into each ice cube section until full.

Place ice cube trays in the freezer for 4 hours, or until fully frozen.
PRO TIP: If you would like to make several batches in advance, you can simply pop out the ice cubes once ready, place them in a plastic container, and return them to the freezer. They will maintain their shape, and your ice cube trays will be freed up so you can make another batch!
Looking for more thirst-quenching summertime recipes? You might want to check out these 5 Refreshing & Hydrating Cocktail Recipes (Made With Maple Water!). Share your #TreeChugger recipes and tag us on Instagram for a chance to be featured!
Written by: Lauren Kelly Bienko