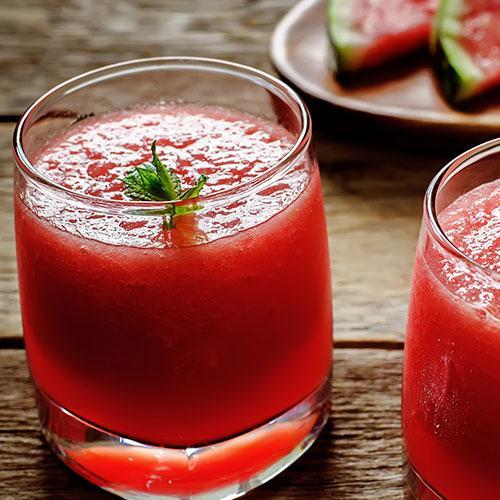 5 Refreshing & Hydrating Cocktail Recipes (Made With Maple Water!)
Beat the heat this summer with hydrating cocktails. These 5 refreshing cocktails are infused with maple water so that you can sip away while infusing your body with electrolytes, antioxidants and prebiotics. What we love most about these drinks is their low sugar levels and absence of refined sugars -- Did you know that maple water contains half the sugar of coconut water? All the more reason to swap out other mixers and pour up some maple water.
FYI: according to a study in the International Journal of Molecular Medicine, the consumption of maple water before alcohol can speed up the metabolization of alcohol in your body, which could lead to reduced hangover symptoms… You're welcome!
Sit back and relax with a 4-ingredient cool mint watermelon cooler. Made with cucumber vodka, this recipe is also refreshing as a non-alcoholic drink.
Click here to try our Watermelon Mint Maple Water Cooler Recipe
This old-fashioned cocktail is amazing served over maple water ice cubes. With the combination of WhistlePig 10 Year Rye Whiskey and Drink Simple maple water, you will have every reason to truly feel good about your drink.
Click here to try our Maple Smash Recipe
Mojito lovers, this one's for you. Mix up your favorite rum with fresh-picked raspberries, fresh mint, lime juice, and Drink Simple Raspberry Lemon Maple Water. Is it summer yet?
Click here to try our Raspberry Maple Water Mojito Recipe
If bourbon is your go-to, then our signature cocktail is an absolute must. This shot was taken at Atlas on Nantucket, where it was crafted to absolute perfection.
Click here to try our Drink Simple Maple-Bourbon Signature Cocktail
Summer sangria has never looked so good! Light and fruity, this sangria recipe is made with our Drink Simple Watermelon Water, and is packed with summertime fruits.
Click here to try our Drink Simple Watermelon Sangria
Is Maple Water your go-to source of hydration? Share your favorite recipes and tag us on Instagram for a chance to be featured!
Written by: Lauren Kelly Bienko