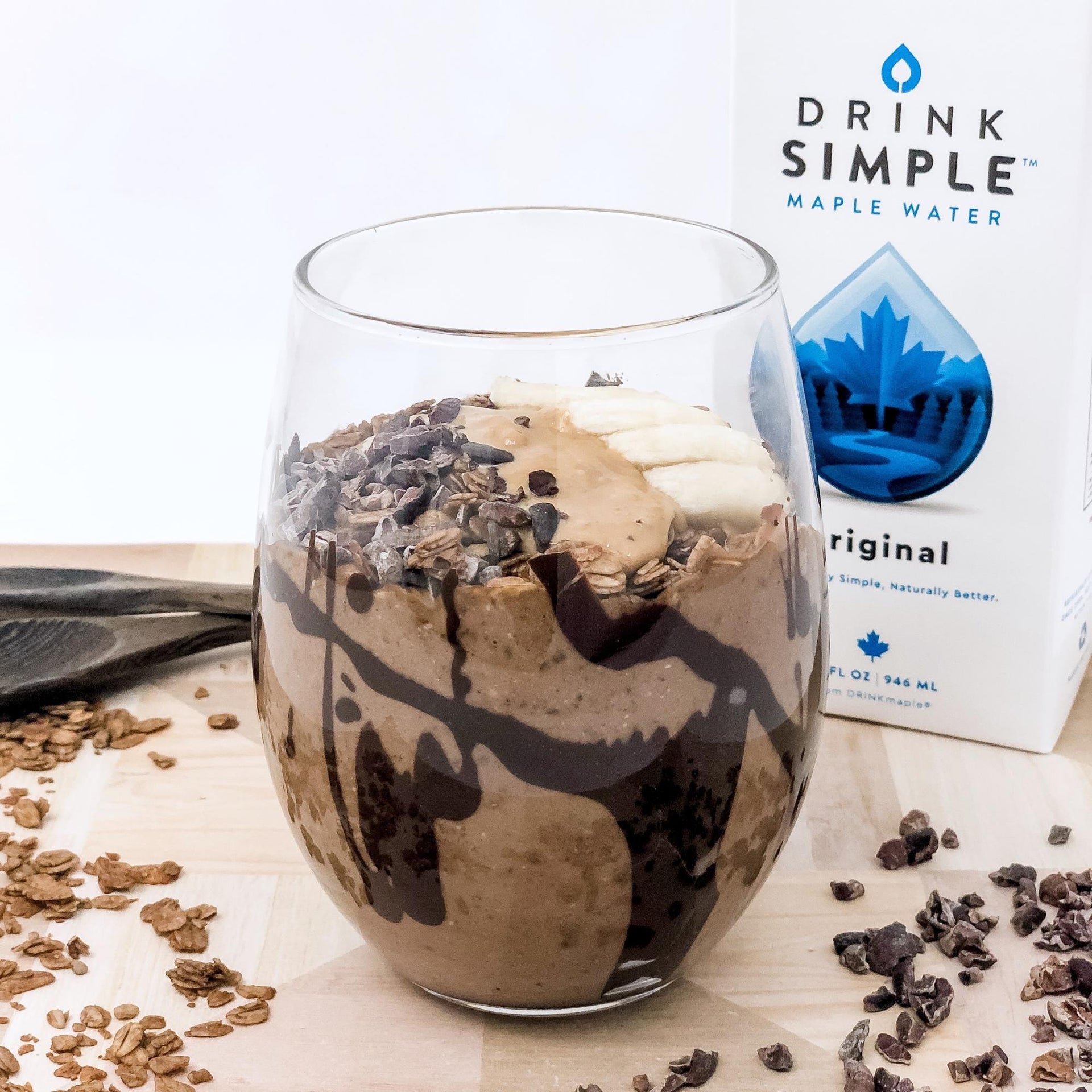 Healthy Raw Cacao Recovery Smoothie
Creamy, indulgent and delicious plant-based nutrition in a glass. Recover from your next workout (or, from life in general) with this nutrient-dense, gluten-free, dairy-free, soy-free, refined sugar-free, and vegan-friendly chocolate smoothie packed with healthy fats and antioxidants. Made with superfoods maple water (hello electrolytes!), cacao powder, raw cacao nibs, and chia seeds, this decadent blend will boost you up with essential vitamins and minerals to keep you pushing through an active lifestyle.
What's so great about cacao? You're probably familiar with cocoa powder, so you're left wondering whether "cacao" is simply a typo or another way of spelling "cocoa." Both cocoa and cacao are derived from the same Amazonian Theobroma Cacao tree, which provides us with the cacao bean, however, cacao refers to the raw, unprocessed cacao bean whereas cocoa is heavily processed. Through processing, cocoa loses the majority of its superfood benefits and despite making for delicious chocolates, unfortunately, compromises its natural nutrition profile.
The superfood benefits of cacao are wonderful news to any chocoholics out there who love adding a touch of decadence to their healthy smoothies, coffees and recipes. Not only does cacao boast over 40 times as many antioxidants as blueberries (which help detox your system) and more calcium than cow's milk, but it is also the highest plant-based source of iron at 7.3mg per 100g. We just couldn't get enough of these superfood benefits that we decided to throw some raw cacao nibs into this smoothie. Raw cacao nibs are dried, fermented and cracked cacao beans -- broken up into small pieces (like mini crunchy chocolate chips!). Combined with a few scoops of cashew butter and chia seeds, you'll be getting a nutritiously natural dosage of healthy fats, proteins and carbs when you whip up this smoothie!
Ingredients
Makes 2 smoothie servings
Smoothie:
2 bananas (preferably frozen)

3 Tbsp cacao powder

2 Tbsp raw cacao nibs

4 Tbsp chia seeds

3 Tbsp cashew butter

2 tsp maple syrup
Toppings (optional):
Banana

Raw cacao nibs

Granola

Cashew butter
Directions
Add all smoothie ingredients to a blender, and blend until fully combined.

Top with banana slices, raw cacao nibs, granola, cashew butter and any other toppings of choice. 

Enjoy!
*Note: if you are looking to make that gorgeous chocolate drizzle in your glass, simply melt ½ cup of pure, organic dark chocolate with 1 tsp coconut oil until fully melted. Drizzle the melted chocolate with a spoon into the inside of your smoothie glasses, and place immediately in the freezer. The chocolate should freeze within 10-15 minutes (while you make your smoothie), and then you simply have to pour it in!


Looking for more ways to boost your smoothies with maple water? You might love our Vanilla Bean Maple Water Smoothie recipe or our Mint Chip Maple Water Smoothie. Share your favorite #TreeChugger recipes and tag us on Instagram for a chance to be featured!
Written by: Lauren Kelly Bienko